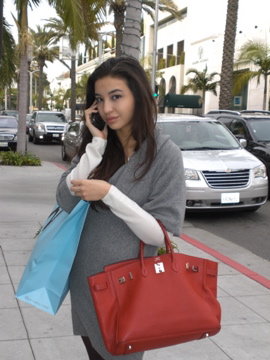 There might be many teenagers out there that show their fondness of splurging on indulgences, but few would show their fondness of compassionately caring and helping for others. The young Manohara Pinot has just adopted two children – one with special needs – to be taken care of at her house. With Indonesian and French descent, she calls Cannes her home and Jakarta her 'new' home.
She started her love for fashion at an early age. She loves Roberto Cavalli dresses, Christian Louboutin shoes, Birkin bags, Audemars Piguet and Roger Dubuis watches just to name a few. A close source said that Manohara is exteremely down-to-earth, unlike any other women you see toting Birkins on Louboutin heels, "She is beautiful, outside and inside," added our source.
Besides preparing to enroll in public relations major at a university in Jakarta, this soft-spoken young lady enjoys painting and writing in her free time. With beauty and grace that resemble Marella Agnelli, combined with such an impeccable manner, Manohara always looks effortlessly elegant and stunning.