Jakarta Globe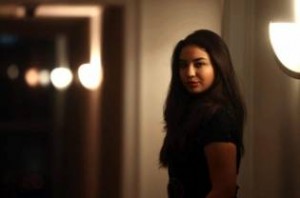 Sitting in a room in a hotel in South Jakarta is a 17-year-old girl who has travelled the world, married a prince and run away, and whose face is now famous across Indonesia. Her story is so extraordinary that it is hard to believe. Her fairytale-to-nightmare claims of a whirlwind marriage, kidnapping, abuse and escape have gripped the public, overshadowing the Ambalat row with Malaysia, upstaging the presidential election.
Used to the company of older men, a 16-year-old Manohara last August married the 30-year-old Tengku Temenggong Fakhry, a Kelantan prince. Two months later, she flew home complaining of abuse, then went back late last year. This February, she claims, she was abducted in a jet after a pilgrimage to Jeddah. Her mother, left behind, went public with the tale in April, pleading for her return. On May 31 Manohara made her great escape: in Singapore with her husband, she got out of her hotel and fled to Jakarta. In the latest twist, the prince this Thursday filed a police report in Malaysia, calling the stories of abuse "false allegations". For many, though, the best part of the story is where Manohara goes next: I keep smiling, she says, and showbiz opportunities are opening up …

But how did this whirlwind get whipped up? Who is or was the girl behind the claims? These edited extracts from our exclusive interview give an insight into how the Manohara saga came into being.
Who is Manohara?
I was born in Jakarta, February 28, 1992, [during] my mother's second marriage. My biological father is from the US, but I haven't had any contact with him. I tried making contact with him, which I regret. My father that I consider, Reiner Pinot, he's a great guy. I didn't miss out much on a father because of him.
Can you briefly tell us about your life growing up?
I left Jakarta when I was 9 months old, for Hong Kong for around two years. For less than six months, we lived in Romania. And then I went to Austria, Vienna to be exact. We went to Lausanne, Switzerland, and then Windsor, England, and then France for a long time.
Why all the moving around?
Business. My father [Pinot] was always based in London and the US. But we always traveled around a lot anyway. I came back to Jakarta around three years ago, in 2006.
Why did you come back to Jakarta?
The reason why we came in the first place was because my grandfather was very ill. Actually, he passed away, so we stayed here for the 40 days [mourning period]. And then we just ended up staying.
Where did you go to school?
I was home-schooled actually. I was looking at the other schools like JIS [Jakarta International School] and stuff, but I just didn't see myself fitting in there. Then I heard about home-schooling. So I finished a couple of years ahead. I graduated high school when I was 16, in 2008. I also skipped a couple of grades in middle school.
What about friends? How do you make new friends?
Making new friends, luckily for me, hasn't been such a big problem here. I also had a lot of family here, so they introduced me to their friends, [who] became my friends. Making friends, it's not like a huge challenge for my sister and I. Because of the traveling we're really open people, so we accept different people and different cultures. We don't stick with one stereotype of people.
When did your modeling career begin?
The start of it wasn't so much modeling. For example, the director of Registry just happens to be a friend. So, it was like, "Hey, Mano, why don't you pose for a cover?" I was like, "OK, sure," so I just did that several times, just as favors for friends.
After a while, I was like, "Ah, this is fun. I could do it." I started getting more into casting, but before I could go further with any of that, the Malaysia thing happened.
Could you tell me the different shoots that you've done?
I did one for Prestige. That was for the "It List" of the year. It named the young future socialites of Indonesia. I was also in Bazaar. I was the youngest one. The 100 most influential women of Indonesia!
How do you like modeling?
It's fun, every girl likes to dress up and play around. I think it's really fun, getting made up and dressed up. Because I'm usually not like that, my group of friends are mostly guys. I don't think I'm a socialite. If you ask all my friends, I'm just more stay at home. But I mean, I'm social, you know. I like making friends, if they invite me to dinner, parties and stuff, then why not?
Was there any modeling agency you were signed to? What about from TV or film?
No, I didn't sign to any modeling agency. I never signed any contract with anyone.
How did you feel being young and being in Bazaar?
When they called me, I was actually really surprised. I was thankful and grateful for it. It's a great compliment. If people look at me that way, then great.
They gave me a title of philanthropist because I do a lot of the charity work myself. Not through an organization, just personally. The reason people don't know that I do that is because I don't, like, brag about it too much. Or I don't do it through organizations. So I just do it myself. So, for example, when there's a flood, I just literally buy bags of rice and pass it out myself. So it's really just me and my mom and my sister.
A concrete example: the kids in Menteng, in front of Keris Gallery, I used to go there weekly. I haven't been there in a while now since Malaysia. I actually want to create a foundation similar to the Big Brother, Big Sister [program] in the US. I don't know if you're familiar with that. Basically a place where kids can just express themselves freely and talk, and maybe get counseling after school if they need it. Kids here, after school, unfortunately there's a lot of begging, they don't have a place to stay, or they end up going on the streets. Get involved with the wrong types of people. So I just want them to stay in a safe environment. Where they can express themselves freely and safely.
Did you always date someone older?
It's not really about dating someone older. I always say age is just a number. It's just that since I was younger, I've always hung out with the old e r crowd. I don't know why, I just relate better to someone older. Some people say I'm just mature. I don't know.
I didn't dat e [Tengku]. The wedding was really, we were just really friends and there was nothing more to it. He just called up and said basically, "I want to introduce you to my parents." So I was like, "Yeah, great, I'll come down."
So we went there, that's what happened. "You have to get married this week." I said, "I can't." But [the family] said they'd already sent out invitations, the wedding venue's already there. "Everything's already been done. If you don't do this you'll embarrass the royal family." And I kept saying, "No, no, no."
Then they said, "Look, Mano, please do this for us," and then tomorrow or the next day we'll go straight back to Jakarta, we'll go to France, we'll do everything in order like we weren't married. Start from zero, start from the beginning."
But then the next day, they completely forgot about their promises. I don't know if you can call it a trap, but I felt trapped.
How did you meet Tengku Fakhry and how did things develop?
I met him in 2007, I was 14. I met him at a dinner party, it was the promotion of Visit Malaysia 2007. He introduced himself. It didn't really develop between me and him. He got my mom's number.
If he came down to Jakarta, then we'd have dinner. Not just me personally, but all of us with a group of friends. And if I happened to go to Malaysia, then I called him up and [said], "Hey, I'm in town."
But you never had the impression that he was into you?
I just didn't see anything. Honestly, I didn't even consider him a close friend. I just considered him someone I knew. And he was always so quiet and so polite, especially with my mom. "So, aunty, let me carry your bag." He was just really a goody-two-shoes, a gentlemanly guy.
What happened next?
We went [to Malaysia] on August 17, 2008. [My sister, my mother and I] hung out for a couple days before meeting his parents. When we met the parents, [his] mom was like, "OK, I agree with you the wedding is on the 26th." I thought she was joking, I started laughing. I was like, "What do you mean?" Apparently they already gave out invitations, they showed them to me, they got my picture from I don't know where. And Tengku was all smiley. I just got really freaked out and was like, "What did I get myself into?"
It was reported that your dowry was 50,000 ringgit ($14,000). What is your response to the allegation that your mom conspired with the Kelantan Sultanate?
Fifty thousand ringgit is like $15,000. And that, honestly, my mom didn't get a penny. We had family over, we gave it for their allowance. We didn't use it that much.
What I don't understand is that my mom is 43 years old. She met Tengku when she was 40. The other 40 years of her life, how did she manage to support my sister and I? How did she pay for my school? How did she support the rest of the 40 years of her life?
I don't understand why they're making these allegations. If they're talking about the dowry, which is 50,000 ringgit, you can't get a house, a car and bags through that, you know. It's not enough. These allegations don't make sense to me.
Why didn't you try to escape?
Even if I did try to escape, [as] you saw with my mom, even she could be stopped by his people. Imagine me. So I thought, "Mano, you're going back to Jakarta the next day, so just get it over and done with."
Initially, I didn't even know that he was from a royal family. I just thought he was just someone big. I didn't know what his businesses were. I didn't know anything about him. I didn't know he was from a royal family until after.
What happened after the wedding?
Right after the wedding, in the car going back to his house, he started raising his voice, which was something really new. I was shocked. It wasn't directed at me, so maybe it was just stress. And then when we went back home, he was like, you have to sleep with me. I said, "Wow, I thought I'm going back to Jakarta tomorrow. What's going on here?" And then at the time, I was also having my period. I said, "Look, I can't." And then he got really rough and started saying, "All Indonesians are prostitutes and can be bought," and just comments like that. And I was stuck there.
What happened after that?
That night, he kept shouting at me. He told me to sleep on the floor because I wouldn't serve him as a wife. But in my head, I'm like, "But I'm not actually your wife." It was extremely frustrating. I was trapped. I was fooled. I was just stupid.
Did you try to contact the outside world?
During the first two months I had Internet, I had my phone. I did [try to contact people outside], and I have done. But you have to realize that they're extremely powerful in Malaysia.
Were the families repressive?
I wouldn't say so. Most of the people who helped me get out were members of his family. Most of the time, they're extremely friendly.
What about the king and the queen?
The sultan was a very nice man. But at the same time, he could've done something. It's just the queen here is just a bit … [pauses] she's the one that controls the palace.
Between the wedding and Singapore, did you try to escape?
Yes. I kept asking to leave, but then they took my passport. A lot of dramatic events like that. Once I even got my passport and then the driver took me to the airport. They didn't let him. They told him to take me back to the palace. They planned all these things for me to not go home.
So then, finally, I went to Singapore [in October 2008] for a health checkup. In the morning, I just ran away with my sister. My mom followed the day after.
What happened in October 2008?
I got back to Jakarta. There was one pretty well-known mafia family. They told their son to kidnap me for $250,000, if I'm not mistaken. But fortunately I knew the guy. Thank God, he didn't.
When you were in Jakarta, was it impossible to divorce your husband?
It was impossible because the marriage was not registered in Indonesia. It was registered there. I couldn't divorce him there because in Islamic marriage, only the husband could [divorce his wife]. Five months was an extremely short period of time for these kinds of things. So we went to Jeddah.
What happened in Jeddah?
From Mecca, when we were done with the pilgrimage, we drove to Jeddah. And from Jeddah we were supposed to fly to Jakarta. We had tickets and everything. But that's when he forced me on the plane.
During those times, what discussions did you have with him?
I didn't have that much discussion with him. Because we weren't even together most of the time. We probably only met up for dinner.
Why agree to Jeddah?
One of them said, "Look, Manohara, we're just going to pray. Please, just come and pray, clean our minds with God." [Tengku said] "I'm sorry, I don't know what's wrong with me. So we're going to pray, hopefully I'll get better so that I can make it up to you."
So I said, "Fair enough."
What happened back in Malaysia?
His father fell ill with a heart attack. We went to hospital in Kotabaru, Kelantan, but then the doctor said it was better to take him to Singapore. I really saw it as a chance to do something. Beforehand, I had one chance where I was out in public at a football game, and I saw a camera from an Indonesian TV station. But I thought to myself, "If I scream, if I do anything here, they have most of the power. So, A, I'm going to get hurt when I get home, and B, they're going to increase the security, it's going to be harder for me to do anything.
It's been reported you're receiving many offers from the entertainment industry. What is your response to allegations that the whole story was a publicity stunt?
In that case, that means [the Kelantan family] would have to be part of the plan too. We can't go to Kelantan and say, "Hey, can you kidnap me, and then pretend to torture me, and then you let me go?" I don't see how that makes sense.
I have proof. I have the doctor saying it is true. I have scars everywhere, and needle marks on my back These are already proof but people don't believe it.
Does this mean you're planning to get back into the modeling and entertainment industry?
Fortunately, I've had a lot of offers. And I figure, "Why not?"
I'm still young. I still have to continue with my life. It's also a good way to start making a living on my own.
'He's Taken So Much From My Life, I'm Not Going to Let Him Take My Future'
In her interview with the Jakarta Globe, Manohara also went into detail about the abuse that she alleges she suffered at the hands of her husband. Below are edited extracts. Her husband's lawyer, Haaziq Pillay, declined to comment on the allegations, saying that Tengku Fahkry had filed a defamation complaint with the Malaysian police on the matter:
When did the abuse start?
I don't remember when. But it was not long before the wedding. I got raped, basically. I didn't tell anyone. I didn't tell my mom. Tengku himself acted like it didn't happen. I was just in denial. I went numb. I didn't want to believe it.
We were cruising from Singapore to Lombok, to Bali. In the boat he just grabbed me. At the time I was just in the room, sitting there just to wait for my mom. Basically, it just happened. But after that, I just kind of shut down. I didn't know what to think about myself. Basically, I was just in denial about the whole thing.
If he raped you before you went to Malaysia, why did you accept his invitation?
Because, A, I just didn't want to believe, so I just tried to completely block that out, and B, after that he was really nice to me. He was extremely sweet and gentlemanly. I didn't know what happened, actually.
Things got worse after you married him?
I know that March was the burn. I had an iron burn on my neck. And a cigar burn on my forehead. It was just random, he just came by with a cigar. I was ironing, and then he just took the thing. The iron came first. I took pictures of the scars with my BlackBerry.
Between March and April, the mental and sexual abuse was constantly there. I was held there against my will. They kept injecting me with several different medications to [make me] gain weight, to make me fall asleep and some to paralyze me. It was emotionally and mentally exhausting to endure that.
When the whole razor [abuse] started, when things started to get real rough, that was in April. He took an eyebrow razor and cut me around my chest area.
The hardest thing about that was I was aware of it, I could feel it, but I couldn't move or scream. I don't know what he had given me.
I could see, hear him, smell him, feel him. I could feel the cuts on my body. It hurt. With the physical pain, I didn't mind too much.
Just knowing that you have no control over anything and can't do anything about it was just …
It happened three times. The first thing he marked on me was just a small X on my chest area. And the worst part about it is that he didn't even slash it fast or anything. [He] just took his time, slowly. He looked as calm as ever. It's like if you gave someone a paintbrush and told him to draw a flower. It took a little over 20 minutes.
Did he follow with sexual abuse?
Yes. It usually followed or happened beforehand.
Are you traumatized?
No, not traumatized. He's taken so much from my life in the past, I'm not going to let him to take away my future. Someone once said, "Forgiving is freeing yourself."
I believe that.