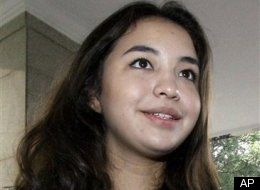 JAKARTA — Relations between Indonesia and Malaysia, tepid at the best of times, took a turn for the worse earlier this month when the Indonesian Navy had to chase a Malaysian attack ship out of disputed waters in the oil-rich region of Ambalat.
Similar confrontations have occurred already nine times this year, according to the Indonesian military, with few outside the military ever taking notice. But this time Indonesian nationalism had already been stirred by a totally unrelated diplomatic scuttlebutt.
A beloved Indonesian starlet, who happens to be half American, returned to Jakarta around the same time as the Ambalat incursion, accusing her husband, a Malaysian prince, of kidnapping and sexual abuse, riling Indonesians into a fury.
Her story could have been a script out of the very Indonesian soap operas that once made her famous. Visiting her sick father-in-law in Singapore, 17-year-old Manohara Odelia Pinot made a daring midnight escape, aided by an Indonesian nationalist militia and officials from Singapore, Jakarta and Washington.
Incredibly, the teenager slipped out of an elevator and away from several Malaysian Royal guards.
"Their guards tried to find and catch me but they were afraid of having their actions recorded by the escalator's camera, so they let me go," she said at the time.
Ever since, her story has been on the front pages and all over television news and gossip programs in both Malaysia and Indonesia. And all of those reports have included a mention of the Ambalat incident, ratcheting up what might otherwise have been a minor diplomatic incident.
The Malaysian government hurried to sooth tensions but Indonesians were already short on patience with their neighbor. Last year, Malaysia was forced to discontinue a tourism advertising campaign that included scenes of villagers making Batik prints after protests from Indonesia, which considers the clothing design to be its distinct cultural heritage.
Indonesian and Malaysia share more than just borders. They both have majority Muslim populations and share numerous cultural pastimes, including similar languages. The people themselves are mostly of Malay decent. But rather than creating closer ties, the commonalities have more often pitted the countries against each other.
Indonesians refer to its neighbor as Maling-sia, "maling" being the Indonesian word for thief. The phrase originated in the 1960s during a war between the two newly independent countries over territory on the island of Borneo.
The dispute over Ambalat and the stores of undersea oil and natural gas in the region began in the late 1970s when Malaysia published a map that included Ambalat within its borders. The area is also close to several islands that were under dispute for years before they were finally awarded to Malaysia by an international court in 2002, irking Indonesians.
Now, however absurd it sounds, talk of potential conflict is on the rise once again.
"We will take stern actions if there are foreign incursions into Ambalat waters," Indonesia's vice president, Yusuf Kalla, said at a press conference last week. "If foreigners disturb our country, we are even ready for war."
Upon her return, Pinot, who looked noticeably less healthy than when she left, revealed bruises on her body to television cameras and described lurid tales of sexual imprisonment at the hands of Malaysia's royalty. She alleged, among other things, that she had been cut with razors and injected with drugs.
The prince of Kelantan State, Tengku Temenggong Mohammad Fakhry, 31, filed a police report Thursday denying all the charges. The two were married last year when Pinot was only 16 years old, over the objections of her American father.
Effendi Choire, an Indonesian lawmaker who met with the Malaysian defense minister on Friday, said the minister assured Indonesia that it would not go to war over the disputed Ambalat region, jokingly pointing out that Malaysian military uniforms are now made by Indonesians.
The Malaysian Navy chief Abdul Aziz Jaafar was also forced into apologizing for the affair, which he offered on June 10.
"We offer an apology if we are considered violating Indonesian territory. We also offer an apology if any of Malaysian naval officers has been involved in a provocative act," he told the
five-member Indonesian parliamentary delegation.
Nevertheless, the Indonesian government is demanding that serious negotiations take place as soon as August.
As for Pinot, she has said she will file charges against the prince and was looking for ways to help other women who might be suffering in the Malaysia royal court. Meanwhile, she has been seen joining daily protests against the Ambalat incident outside the Malaysian embassy in Jakarta.